Treadmills have long been used in therapy and conditioning to encourage patient compliance. Now, the small speed increments, specially configured handrails, and gait monitoring permit the neurologically impaired patient population to safely benefit as well..
FEATURES
Two independent incline motors Providing true incline and decline
Front incline range from 0 to 15 % grade
Rear decline range from 0 to - 10 % grade


True Zero Speed
When the belt is not moving the motor is locked for patient safety.


Bi-Directional Belt Speed
Forward belt speed from 0.1 to 10 mph in 0.1 mph increments
Reverse belt speed from 0.1 to 3.0 mph in 0.1 mph increments – reverse walking


Adjustable Belt Speed Acceleration
Adjustment range is 1 second to 1 minute for every 1 mph of belt speed


Low Step-Up Height
Removable patient step-up


Adjustable Full Length Handrails For Safety
Accommodates a wide variety of patient populations
Height – 62 cm to 87.5 cm
Width – 49.5 cm to 78.7 cm


Instrumented Deck To Provide Basic Gait Assessment And Training
Graphical and numeric measurements of Step count; Steps per minute (cadence); Stride length; and Left vs. Right Gait Symmetry


Multiple Program Modes
VO2; Heart Rate; Manual; Preset Programs: Hill, Plateau, and Interval; Custom Facility Program)


Multiple Display Modes
METs; Symmetry; Cadence; Stride Length; Steps; Pace; all Standard Biofeedback displays.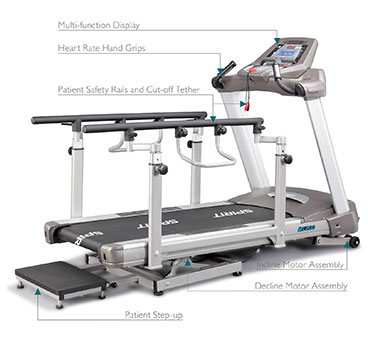 TECHNICAL SPECIFICATIONS
Power
90 to 240 volts AC (Optional)
Motor
3HP continuous duty
Belt/Deck
Self-lubricating
Dimensions
L 239 cm x W 91.4 cm x H 143.5 cm

Commercial Warranty

Frame
Lifetime
Motor
5 Years
Tread Belt
5 years
Mechanical and Electronic
Components:
3 year
Wearable Items
1 year
Labor
1 year